Water Pipe Leaks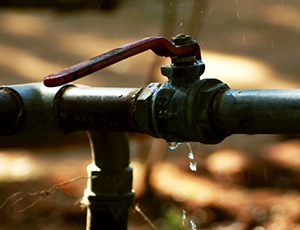 Water pipe leaks in Greenwood, SC and the surrounding areas can cause huge problems for your home and its plumbing system, which can make your home less comfortable and less functional. You and your family rely on your plumbing system every day, so it needs to always be kept in the best condition possible. If you encounter any leaks in your home's pipes, the Greenwood plumbing professionals at Mathis Plumbing & Heating Co., Inc. can provide you with fast, accurate, and thorough leak repairs so that your home's plumbing system can be totally effective and efficient.
Any pipe or fixture exposed to foot traffic, storage changes, or daily use is subject to developing a leak. Sometimes it is easy to spot water pipe leaks, either by sight or sound; however, there are occasions when more skill is needed for leak detection. If you suspect you have a leak in your water pipes, contact our plumbers immediately to have the leak located and repaired promptly and professionally.
Signs of Water Pipe Leaks Include:
While it can be hard to know for sure when there is a leaking pipes on your property, there are a few tell-tale signs that can indicate you have a water pipe leak:
Unusually high water bills
Sewer backup problems due to extra water flow
Toilets overrunning and dripping faucets
Running water sounds when faucets not in use
Discolored walls, flooring, ceilings are indicative of water damage
Musty odors from floors, drains, or sewer connections
Damp slab or foundation, possible cracking of flooring
Warm areas on concrete floors or moisture under carpeting or flooring
If you notice any of these signs in your home, do not hesitate to contact the professional plumbers at Mathis Plumbing & Heating Co., Inc. We'll help you determine where the leaks are located and we'll provide you with quality repairs that will be performed thoroughly and accurately.
Our Water Pipe Leak Repair Services
Water Pipe Repairs
Water Pipe Leaks
Leak Detection
Repairing Leaks
Water Pipe Restoration
Ace Duraflo Process
Pipe Repairs
Fixing Water Pipes
Water Leaks
Water Piping
Pinhole Leaks
Epipe Restoration
Pipe Lining
Repiping
Epoxy Pipe Restorations
Leak Testing
Plumbing Repairs
What Causes Leaky Pipes?
Water pipe leaks can be caused by many different things, but most of the time, it's simply a matter of old age and wear-and-tear. This is especially true for water lines located outside of the home.
Tree roots can also be a major cause for pipe leaks because the roots are constantly seeking water sources. Over time, they can intrude into your pipes, forming cracks and causing them to burst.
Our plumbers can find the source of any pipe leaks in your home, and we'll be able to thoroughly eradicate the problem.
If you need a repairs for water pipe leaks, please call our Greenwood plumbers at 864-229-7117 or complete our online request form.