Video Pipe Inspections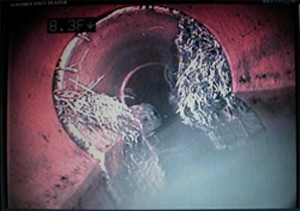 At Mathis Plumbing & Heating Co., Inc., our professionals use state-of-the-art technology and the most advanced techniques to provide our clients with video pipe inspections in Greenwood, SC and the surrounding areas. Using video pipe inspections, our Greenwood plumbing professionals can pinpoint the precise location and cause of any clogs in your pipes. After we find the clogs, we can also help you best ways to clear them and keep your plumbing system in the best condition possible.
If your drains are running slowly, you could be experiencing any of these common problems:
Tree roots have grown into your home's pipes.
Debris has gotten caught in the pipes and it clogging blockage.
A break in your sewer line, which can also cause sewage to leak into your yard.
By simply running a flexible, waterproof drain camera line into your clogged sewer line, we can see in vivid color what the problem is and pin point its location. This means that it takes less time, less effort and costs less money to fix your plumbing or sewer problems.
Advantage of Video Pipe Inspections
A video recording of the inspection, along with a detailed assessment report, shows specific locations of any blockages, root intrusions, improperly fitted pipe work or collapses your sewer or plumbing pipes may encounter. This allows our team of expert plumbers to accurately and quickly repair your sewer problems without any guesswork.
Services Our Video Pipe Inspection Pros Offer
Video Pipe Inspections
Sewer Pipe Inspections
Drain and Sewer
Pipe Inspections
Trenchless Pipe Repairs
Pipe Repairs
Sewer Repairs
Pipeline Inspection
Plumbing Video Inspection
Sewer Services
Sewer Inspection
Pipeline Services
Video Pipe Inspections Allow Our Plumbers To:
Locate:
Broken Pipes
Offset Joints
Collapsed Pipes
Blockages
Root Obstruction
Cracked Pipes
Root Intrusions
Leaking Joints
Off-Grade Pipes
Foreign objects in Pipes
Sewer Traps
Leaking Joints
Inspect:
Septic Tank Lines
House Clean-Outs
Yard Drains
Vent Stacks
Drain lines
Yard Drains
Why Hire Us for Your Video Pipe Inspections?
Our professional plumbers in Greenwood, SC take pride in our ability to provide on time, professional video inspection services of your plumbing and sewer pipes when you need it. It takes years of experience to troubleshoot plumbing problems effectively, and quality training to use the latest practices and technologies to provide customers with the right plumbing services. At Mathis Plumbing & Heating Co., Inc., we make sure our plumbers are trained, knowledgeable, and have the skills necessary to provide you with quality plumbing repair services, no matter what the issue may be. If you would like to schedule service with our Greenwood video inspections specialists, contact us today. We'll be happy to set up an appointment with you.
If you are interested in video pipe inspections in Greenwood, SC or the surrounding communities, please call 864-229-7117 or complete our online request form.