Trenchless Line Replacement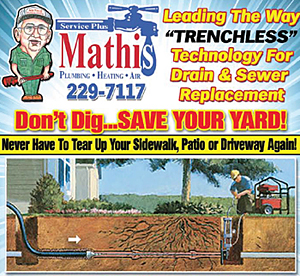 Trenchless line replacement is a process in which a sewer or water line is replaced without disturbing the land. This process saves your property from damage while still providing you with a new and functional sewer line. When you rely on Mathis Plumbing & Heating Co., Inc. for sewer or water pipe replacements, our Greenwood trenchless line replacements specialists can help you can avoid the disruption of your landscaping and property. Whether your pipes are punctured, broken, or collapsed, our plumbers will be able to to repair them without needing to excavate or dig up and part of your property or your landscape. This means they you'll save time and money, and you'll still get excellent line repairs and replacements.
Benefits of the trenchless sewer repair and sewer root control:
No damage to the property
An affordable alternative to sewer replacement
Helps to restore structural integrity of the sewer line and prevents from future drain blockages
The advantages of trenchless sewer line replacement are obvious. First and foremost, it's quicker and less expensive. Using traditional dig and back-fill methods, it can take a couple of weeks or longer to replace a sewer line. Plus there is the added expense of replanting the yard, replacing any sections of fence, repairing driveways or sidewalks, or taking care of any other part of your property that was damaged during the process. Trenchless line replacements will be quick, efficient, and effective without damaging any part of your property.
Professional Pipe Replacement With Less Impact
Trenchless pipe repair and replacement takes less time than older methods and costs less than traditional excavation and restoration. It's also:
Cost-effective
Environmentally friendly
Approved by plumbing authorities
Pipe bursting allows us to install new pipes with a greater diameter than the original. Pipe bursting requires no excavation: instead, we make small access holes where the damaged pipe starts and ends. Using the broken sewer line as a guide, our hydraulic machine pulls full-sized replacement pipe (up to 12 inches) through the old path while breaking up the damaged pipe at the same time. The new pipe is highly resistant to leaks and root intrusion, and it will have a long lifespan.
The trenchless line replacement services that the Greenwood plumbing professionals at Mathis Plumbing & Heating Co., Inc. can provide you with will be performed quickly and efficiently. Because the pipe replacement process requires only two access holes to be dug, our crew can be in and out quickly while your lawn remains intact and unscathed.
Pipe Bursting
Pipe Lining
Our Trenchless Line Replacement Services
Sewer Line Repairs
Trenchless Pipe Replacement
Pipe Replacement
Water Pipe Repairs
Broken Sewer Line
Sewer Pipe Replacement
Main Sewer Line Repair
Clogged Sewer Lines
Trenchless Repair
Trenchless Sewer Repair
Replacement Plumbing
Trenchless Technology
If you are interested in trenchless line replacement or pipe repairs in the Greenwood area, please call 864-229-7117 or complete our online request form.