Trenchless Drain Installation
At Mathis Plumbing & Heating Co., Inc., our professional plumbers can install drain lines quickly and easily without damaging property or landscaping. The finished repair is safe and effective, and that's a guarantee. With our trenchless drain installation in Greenwood, SC and the surrounding areas, homeowners now have a safe and effective way to replace drain lines that doesn't result in a lot of disruption or damage to their properties.
Cracked and leaking sewer lines are repaired by installing a one piece seamless liner through an existing access point. The advantages of trenchless sewer and drain line installations are obvious. First and foremost, it's quicker and less expensive. Using traditional dig and back-fill methods, it usually takes two days to replace a sewer line. Plus there is the added expense of replanting the yard, replacing any sections of fence, repairing driveways or sidewalks, etc.
Benefits of Trenchless Drain Installations
Less Costly: Most of the time, trenchless sewer lines replacements are much less expensive than having your sewer line dug up and then replaced. Most of the cost of a sewer line replacement project is the restoration landscaping and structures that had been dug up. Our trenchless pipe replacements eliminate the necessity of damaging your property.
Less Time: The process of bursting, or "pulling", the old pipe usually take around an hour or less, though sometimes it may take longer. The entire project is typically completed in one or two days. This is a much shorter amount of time than it would generally take to dig up your yard and replace your place, then repair any damage done to you landscape or harscaping features.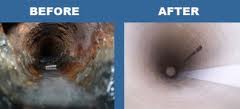 The trenchless sewer installation system reduces destruction to your landscaping and hard surface areas such as driveways, patios, sidewalks and concrete. By only digging two small access holes the process preserves what otherwise would have to be dug up and replaced by traditional methods of pipe replacement. The Greenwood drain cleaning and sewer line repair professionals at Mathis Plumbing & Heating Co., Inc. can guarantee excellent trenchless sewer and drain line installations at every job that we perform.
Pipe Bursting
Pipe Lining
Our Trenchless Drain Installation & Pipe Lining Services
Pipe Re-lining
Drain Pipe Lining
Sewer Pipe Lining
Trenchless Pipe Lining
Trenchless Pipe Re-lining
Re-pipe Alternative
Epoxy Pipe Lining
Pipe Bursting
Sewer Pipe Lining
Why Hire Us for Your Trenchless Drain Installations?
Mathis Plumbing & Heating Co., Inc. has been a family owned and operated plumbing services and drain cleaning company since 1952, and over the years, we've developed our strong reputation to remaining dedicated to quality work and the complete satisfaction of each of our customers. All of our professional plumbers are licensed, trained, and experienced, so you'll always know that you're working with a professional you can trust when you hire us.
If you are interested in trenchless drain installation, please call our Greenwood drain cleaning company at 864-229-7117 or complete our online request form.