Toilets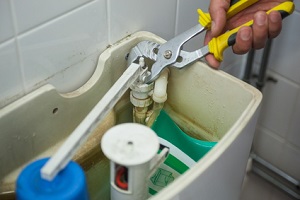 You need the toilets in your home to be perfectly functional at all times, but toilet clogs and overflows are common problems, and they can make your home extremely uncomfortable. At Mathis Plumbing & Heating Co., Inc., our professional plumbers use modern equipment and professional techniques to completely remove clogs and clear any amount of blockage that that might cause future problems for our customers' toilets in Greenwood, SC and the surrounding areas.
Toilets are one of the most frequently used plumbing fixtures in your home, so if a toilet in your home is operating inefficiently, you need speedy and reliable repairs. Our plumbers offer professional toilet repair services, and we'll be ready and eager to assist you know with any problems that you encounter with your toilet. We'll make sure that our repairs are thorough and accurate, and we'll always guarantee your complete satisfaction with our work.
Whether you need toilet repairs, an installation, or a replacement, our expert plumbers will be able to provide you with quality service that you can always rely on.
Our Plumbers Provide These Toilet Services
Toilet Repairs
Toilet Installation
Toilet Replacement
Installing Toilets
Unclogging Toilets
Toilets
Toilet Prices
Install Toilet
Toilet Tanks
Leaking Toilet Repair
Low Flow Toilets
Toilet Parts
Signs of a Leaking Toilet
Noises: You may have a leaking toilet if you notice bubbling noises or groaning sounds coming from the pipes behind or beneath your toilet.
Water on the Bathroom Floor: Small amounts of water from leaking toilets can run down grooves of tile flooring or get soaked up by an area run, so it's very easy to miss this sign of a toilet leak. Water from a leak in your home's toilet may end up far away from the bowl.
Uneven Floor Tiles: If you notice bumps in your bathroom flooring or tiles coming up around your toilet, it's likely being caused by a leak.
Moldy or Sewer Gas Smells: Toilet leaks will often create foul odors in your bathroom.
If you notice any of these signs, call our Greenwood plumbing professionals as soon as possible. We'll inspect your toilet and locate the leak, then we'll tackle the problem at its source. If you leave a leak untreated, it will lead to more complicated and more expensive repairs in the future.
Clogged Toilet Repairs
A clogged toilet can be messy and inconvenient, and even the smallest clogs can prevent your home's toilet from flushing or draining properly. Our professional plumbers can clear any amount of clogs or blockage from toilet and drains to ensure that your toilet is totally functional.
If you need a professional for Toilets, please call our Greenwood plumbers at 864-229-7117 or complete our online request form.