Toilet Backup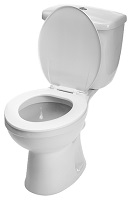 One of the last problems you ever want to encounter is a backed up toilet, and when plungers or store-bought drain cleaners can't help solve the issue, you need the prompt service of a professional plumbers. At Mathis Plumbing & Heating Co., Inc., our drain cleaning company can get your toilet and its drains unblocked and back into working condition quickly and professionally. Locals know they can count on us for affordable, reliable solutions for toilet backups in Greenwood, SC and the surrounding areas.
All of our professionals are licensed and trained plumbers with extensive experience, so we'll be able to resolve any issues with your toilet quickly and professionally. We'll make sure that our repairs are totally thorough and accurate, and we'll always guarantee your complete satisfaction with our work. We understand how important your toilets are to your home, so we'll always strive to provide the highest quality services possible.
How Toilets Become Clogged
A broken toilet that needs to be repaired or replaced can be a disruption in your life. There are several different factors that can contribute to clogged toilets, including:
Sanitary products
Sewage backup
Poor installation
Waste buildup
Tree roots
Toys
Paper products
No matter what's causing problems with your toilets, you can rely on our Greenwood drain cleaning and sewer repair professionals to identify the problems then attack them at their root cause, so you won't see the problems cropping up again any time in the near future.
How Are Toilets Unclogged?
Mathis Plumbing & Heating Co., Inc., has been has been providing premier plumbing services to homeowners in the area since 1952, so we have plenty of experiences working on and solving toilet issues, and we have the knowledge and experience necessary to fix your blocked toilet quickly and accurately. When new arrive on the job, we will:
Attempt to clean the blockage using a plumber's snake
Examine the toilet for sings of damage
Use a drain camera to inspect the drain lines running from your toilet
Provide a quote for repair
Use water jets to clear the blockage
Re-install the toilet and wax ring
We'll often need to remove your toilet to gain access to your water or sewer line in order to fix the toilet backup. If we do not remove the basin, toilet snaking could lead to very serious problems that require significant repairs.
Our water jetting techniques can clear even the most stubborn blockage from drain lines. The high pressure water that comes from the jets will break up and wash away the items that are causing the clogs in your toilets. In the event that a toy or other item is caught in the drain line or toilet, it is often possible to remove the item by just removing the toilet from the floor.
If you need a professional to fix toilet backups, please call our Greenwood drain cleaning company at 864-229-7117 or complete our online request form.