Tankless Water Heaters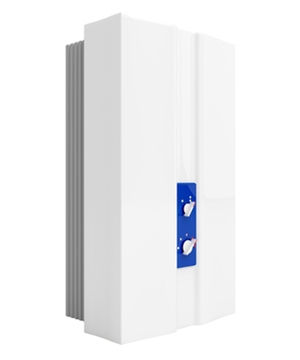 At Mathis Plumbing & Heating Co., Inc., our professional plumbers can provide you with any services you may need for tankless water heaters in Greenwood, SC or any of our surrounding service areas. Whether you need help deciding on whether a tankless water heater would be beneficial to your home or you need to have repairs performed on a tankless water heater system, we'll be able to ensure that your receive the highest quality water heater services possible.
Most homes in America are supplied hot water with traditional gas or electric water heater heaters, but tankless water heaters have been rapidly rising in popularity for a number of years. Not only are tankless water heaters more energy efficient than traditional water heaters, but they're also more effective at providing hot water to your home's plumbing fixtures.
Tankless water heaters are also known as on demand water heaters. These units make sense for homeowners for several reasons. A tankless hot water heater will only heat water when you need it, and its design allows it to supply an endless supply of hot water. This make them very energy efficient, and an excellent choice for homeowners.
Why Opt for a Tankless Water Heater?
Energy Savings: Enjoy up to 40% energy savings with a tankless water heater. Natural gas tankless units are designed to be highly efficient and only heat water when it is needed, a revolutionary advantage over inefficient tank-style heaters.
Longevity: Tankless water heaters have a typical life of up to 20 years. This can be twice as long as a tank style unit!
Space Savings: Traditional water heaters can take up to 16 square feet of valuable floor space. However, tankless water heaters are about the size of a carry-on suitcase and can be installed on virtually any wall inside or outside of your home.
Health: Traditional tank style water heaters can build up rust and scale inside their tank, where the hot water you use for bathing and drinking is stored. With tankless water heaters you will always experience fresh, clean water that is heated on demand, as it passes through the unit.
Our Greenwood plumbing professionals can work with you to decide whether or a not a tankless water heater would be a good option for your home, then we can take care of every aspect of the installation.
Our Plumbers Offer These Tankless Hot Water Services
Tankless Hot Water Heaters
Tankless Water Heater Installation
Tankless Water Heater Repairs
Tankless Water Heaters
Water Heaters
Water Heater Installation
Gas Water Heaters
Water Heater Repairs
Water Heaters Prices
Water Heater Services
Water Heater Systems
Electric Water Heaters
If you need a services for tankless water heaters, please call our Greenwood plumbers at 864-229-7117 or complete our online request form.