Slow Drains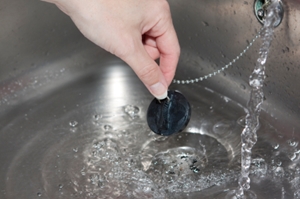 All of the drains on your property are connected to one another, so when you have a clog in one drain, it has an effect on your entire plumbing system. A clogged drain in your bathroom can effect on every part of your plumbing system. When any of your drains or pipes become clogged, any of your other drain may start to work slowly. If you're having trouble with slow drains in Greenwood, SC or any of the surrounding areas, our drain cleaning company has the solution.
Clogged drains can lead to unnecessary flooding problems if not properly taken care of in a timely manner. At Mathis Plumbing & Heating Co., Inc., your Greenwood drain cleaning company, we can help make sure you don't have to deal with slow drains and the related plumbing issues they cause with our professional drain clearing and drain repair services.
What Can Our Drain Cleaning and Repair Services Help With?
Fixing Slow Drains
Repairing Clogged Drains
Cleaning Out Bathtub Drains
Unclogging Kitchen Sinks
Unclogging Bathroom Sinks
and more!
Tips for Preventing Slow Drains in Greenwood, SC
Proper drain maintenance is important to ensure your Greenwood home doesn't suffer from slow drains. The following are some tips you can employ on your own to help keep your drains working properly:
Never-ever pour grease down your kitchen drain!
Pour a pot of boiling water down all drains at least once a month, more often if possible.
Add a half-cup of baking soda to boiling water poured in the disposal.
Always use a screen or filter (hair snare) over lavatory and tub drains to snag hair and objects that may sneak into your drain during bathing.
Have plunger and sewer snake on hand and know how to use them in case of a toilet overflow. Start with the plunger, then move to the snake. Even if you think you've moved the clog, fill the toilet bowl with a bucket of water instead of flushing. If the water doesn't go down, the clog is still there. Call our plumbers as soon as possible to have it completely removed.
Our Drain Cleaning Services
Drain Maintenance
Clogged Drains
Drain Cleaning
Drain Cleaners
Unclogging Drains
Drain Jetting
Cleaning Drains
Fixing Slow Drains
Kitchen Drains
Sink Drains
Bathroom Drains
Commercial Drains
Why Hire Us To Repair Your Slow Drains?
At Mathis Plumbing & Heating Co., Inc., our professional Greenwood plumbers have years of experience working with all types of plumbing systems. We'll be able to quickly and accurately pinpoint the cause of your slow drains, then we'll find the best ways to solve the problem. We'll do whatever it takes to make sure your drains are functioning properly, and we'll guarantee your complete satisfaction with our work.
If you are having trouble with slow drains, please call our Greenwood drain cleaning company at 864-229-7117 or complete our online request form.