Saluda County Plumber, Air Conditioning & Heating Contractor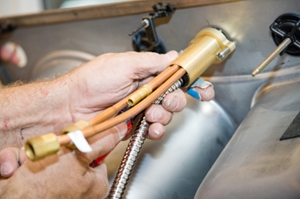 At Mathis Plumbing & Heating Co., Inc., we believe the most important "product" we can provide is your increased home comfort, safety and, ultimately, peace of mind. This goes well beyond superior products and service, our Saluda County plumbers and HVAC technicians adhere to a code of ethics and a set of company guarantees you can count on...no matter what.
Our expert Saluda County plumbers have many years of experience helping many diffrent people with all their plumbing, air conditioning, and heating needs. Look to Mathis for all the services you need, from installation to maintenance and repairs. If it has to do with plumbing or HVAC, our plumbers, air conditioning and heating contractors in Saluda County, SC can do it all!
Air Conditioning Repairs in Saluda County
Fans and compressors, ducts to heat pumps, all your lines and hoses, plus much more help to build the system that is yoru AC. It's no surprise then with all those parts working together, sometimes something goes wrong. Thats where Mathis Plumbing & Heating Co., comes in. We can make sure that your HVAC unit is running the way it was meant to run, and if anything does need to be fixed, we will take care of that too. With our fully stocked and ready to roll service vehicles we can do most jobs in just a single trip out to your house. If does come time to replace the whole unit, well we would love to take care of that as well. With Mathis Plumbing & Heating Co., Inc. at your back, your air conditioner will always be ready to cool. Call today if you need air conditioning repairs in Saluda County, SC.
Saluda County Plumber
A clogged drain in a sink, shower or bath can be inconvenient. However, many people do not know that the kitchen sink, bathtub and laundry drains are all connected in multiple places, and what happens in one can affect the other. When you have a clogged drain, it can effect more of your plumbing system than you might expect. That's why our plumbers offer professional Saluda County drain cleaning services that are satisfaction guaranteed. Our professional plumbers are experienced, educated and use the latest technology designed to get out every clog.
We offer reliable, professional and prompt drain cleaning in Saluda County, SC with up front pricing. So if you have plumbing issues involving your drains, you can count on the Saluda County plumbers at Mathis Plumbing & Heating Co., Inc. for quality results.
Expert Heating Repairs in Saluda County
As cold weather approaches, every Saluda County homeowner begins to worry about their heating system. Will in kick on? Will it last through another season? Should we install a new system? If so, what kind? The most important step to take before starting your heating system for the season is to have it inspected by a licensed professional Saluda County heating repairs contractor.
Your heating contractor in Saluda County will clean your heating system, make sure it is in good working order, and will also recommend any parts that will need to be serviced or replaced in the near future. If you are looking for a new heating system or repairs to an exiting one, call us today.
If you are looking for a professional Saluda County plumber, heating and air conditioning company then please call 864-229-7117 or complete our online request form.