Rooftop Units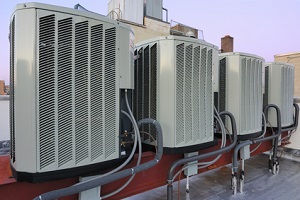 Many commercial properties house their HVAC ducts or heating and cooling units on their roofs, and while this equipment can be easy to ignore, it's very important that it always receives proper maintenance and repairs. Operational costs are always growing, and conserving energy is a growing concern of people across the country, so keeping your rooftop units in excellent condition is a major priority. At Mathis Plumbing & Heating Co., Inc., our professionals offer maintenance, repairs, and installations services for commercial rooftop units in Greenwood, SC and the surrounding areas, and we can always guarantee your complete satisfaction with our work.
All of our commercial HVAC contractors in Greenwood, SC are licensed professionals with extensive training and experience, so we'll always be able to provide you with the highest quality workmanship possible. We'll do whatever it takes to keep your rooftop units in great shape, and we'll make sure that every part of your HVAC system is functional, reliable, and efficient.
Call us today to schedule your appointment for service, or to ask any questions you have about the services we provide, and we'll be looking forward to working with you.
Our Commercial HVAC & Rooftop Unit Services
Commercial HVAC
Commercial Air Conditioning
Commercial Rooftop Units
Commercial HVAC Contractors
Heating and Air
Air Conditioner Installation
Packaged Air Conditioning
Packaged AC
HVAC Repairs
HVAC Installation
HVAC Maintenance
HVAC Services
Quality Rooftop Unit Service
People responsible for building operational costs—and particularly anyone attempting to reduce those costs and reduce the building's carbon footprint—need to ensure that the right commercial heating and air conditioning company is hired to provide services for their rooftop units. If your company has a commercial rooftop HVAC system, Mathis Plumbing & Heating Co., Inc. can provide you with quality HVAC repairs, maintenance and installation services. Our commercial HVAC technicians are trained and experienced at dealing with all sorts of commercial properties, and can provide you with on time, reliable services.
Rooftop HVAC Repairs
Commercial rooftop units are one of the biggest parts of your business' air conditioning and heating systems. Our certified Greenwood commercial HVAC technicians are trained to quickly diagnose and repair your business' failed rooftop heating and air conditioning units quickly and professionally.
Because commercial rooftop air conditioners and heating units are outdoors, they can be damages by weather, contaminants, or debris that can cause corrosion, clogged filters, blocked return air grills, or or other common problems. Broken rooftop units that are left untreated will eventually completely break down, so even if the problems you've noticed are minor, it's important to contact a professional as soon as possible to have the HVAC repairs performed.
If you need installation or repairs for rooftop units in Greenwood, SC or any of our nearby service areas, please call 864-229-7117 or complete our online request form.