Universal Protection Plan
An Exclusive Membership Opportunity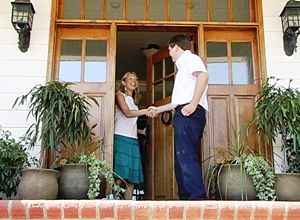 For No More than $21 per Month, You can Enjoy An Entire Universe of Added Benefits & Peace of Mind.
Our Universal Protection Program is a private membership service club that is limited to 22% of our customers. That's because the benefits are exceptional and we want to be sure we can deliver all the added value your membership would entitle you to.
You can enroll in the Plumbing Program, Heating & Cooling Program, or both, subject to availability.
What Your Plumbing and HVAC Membership Program Includes
Annual inspection for as long as you remain a Program member. During that inspection, one of our highly skilled Greenwood plumbers will thoroughly inspect all your plumbing systems and fixtures. We'll check for small leaks that could become big problems. The complete check list includes up to 100 different items.
We'll also check and determine whether you have any holes, cracks, rust, or corrosion damage inside your furnace or AC compressor. It's our goal to make sure we catch small problems before they become bigger and more costly to repair. We'll also help extend the effective lifespan of your systems while helping maintain the highest possible levels of operating efficiency so that, in turn, we can help reduce your energy costs.
Plumbing and Heating & Cooling Program Membership Benefits
Priority Service: As a priority customer, your name goes to the top of the list every time you call for service.
Value Rate: You receive special pricing for all services. Some value rate services are discounted as much as 20%.
Tune-Ups: Your annual tune-up and inspection is included in the cost of the program. That in itself covers the cost of your membership.
No Overtime Rates: No extra fees applied for emergency service, nights, weekends, or holidays.
Transferable: Should you sell your home, your "UPP" is fully transferable to the new owner. And as a house-warming gift, we'll also honor the remainder of the program for your new home.
High Value
The annual membership fee for the Plumbing UPP is $62.50, or about $5 per month.
The annual membership fee for the Heating & Cooling UPP is $189.50, or just under $16 per month.
Enroll in both, and you'll pay just $239 for the year—less than the price for each plan purchased separately.
Contact Mathis Plumbing & Heating Co., Inc. today to become part of the "22% Club" and join the 22% of our customers who enjoy all the benefits of our Universal Protection Program.
If you would like to learn more about our protection plan, please call 864-229-7117 or complete our online request form.