Plumbing Repairs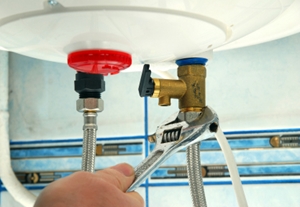 Your home's plumbing system is a crucial part of the comfort that you and your family depend on from your home every day. If you encounter any problems with your plumbing system or your plumbing fixtures, you need prompt and professionals plumbing repairs performed as soon as possible. Our professional plumbers are always available to provide you with thorough and accurate plumbing repairs in Greenwood, SC and all our surrounding service areas, no matter what kinds of problems you're experiencing.
Whether you have a leaky faucet or a burst pipe, you can rely on Mathis Plumbing & Heating Co., Inc. for timely and high quality plumbing repairs. Our Greenwood plumbers are all licensed and trained professionals with extensive experience, so we'll be able to handle absolutely any plumbing problems that you encounter. We'll treat your home and your family with respect, and we'll get the job done as quickly as possible without sacrificing the quality of our work.
Call us today to schedule your appointment for plumbing service, and we'll be looking forward to assisting you.
Our Plumbing Repair Services
Greenwood Plumbing Repairs
Repairing Leaky Faucets
Unclogging Drains
Drain Cleaning
Fixing Leaky Pipes
Toilet Repairs
Plumbing Pipe Repairs
Showers & Tubs
Sewer Repairs
Plumbing Repairs
Residential Plumbing Repairs
Commercial Plumbing Repairs
Why Hire Mathis Plumbing & Heating Co., Inc. for Your Plumbing Repairs?
We are a family owned and operated business who has been providing homeowners in Greenwood and the surrounding areas with high quality plumbing repairs since 1952. Our Greenwood plumbing repairs team is dedicated to providing the highest quality services possible to each of our clients, and we'll always be able to guarantee your complete satisfaction with our work.
Many less experienced or less dedicated plumbers often only treat the most apparent symptoms of any problems that you have with your plumbing system. Over time, the problems will continue to crop up again or to cause more damage to other parts of your plumbing. Our Greenwood plumbing services professionals will always find the root of the problems then attack the issues at their source. We'll make sure that our repairs are as thorough and accurate as possible.
Toilet, Faucet, and Fixture Repairs
Plumbing fixtures that are damaged or worn out can be very frustrating. If your plumbing fixtures are having any significant problems, whether they're totally dysfunctional or only leaking, it can make your home an uncomfortable place. Our professional plumbers can make sure that your plumbing fixtures are always kept in great shape so that your home plumbing system is totally functional throughout your home.
If any of your plumbing fixtures are beyond repair, we can also provide you with fixture replacements and installations.
If you need a professional for plumbing repairs, please call our Greenwood plumbers at 864-229-7117 or complete our online request form.