Plumbing Maintenance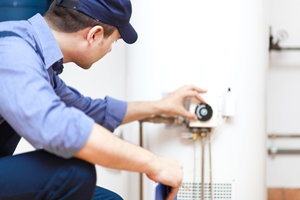 To keep you home comfortable and your family healthy, it's important to make sure that your plumbing system is well maintained. Especially if you have an older home, having regular plumbing maintenance performed by a professional plumber is extremely important.
As a family owned and operated Greenwood plumbing company that has been in business for over 60 years, you can trust that Mathis Plumbing & Heating Co., Inc. knows plumbing. Our Greenwood plumbing maintenance professionals have years of experience and training working with all sorts of plumbing fixtures and plumbing systems, so we'll always be able to do whatever it takes to keep your home's plumbing in great shape. Our plumbing maintenance services can be scheduled at your convenience, and we'll always guarantee your complete satisfaction with our work.
With our plumbing maintenance services, you can rest assured that your plumbing is being carefully inspected. We'll check the faucets, drains, toilets, pipes, water heater—everything to make sure your plumbing is working properly and providing your family with safe, clean water. Contact us today for more information on our plumbing maintenance services, or to schedule your appointment for service, and we'll be looking forward to assisting you.
Our Plumbing Maintenance Services
Plumbing Maintenance
Plumbing Repairs
Drain Cleaning
Maintaining Plumbing
Plumbing and Drain
Water Heater Repairs
Toilet Repairs
Plumbing Service
Bathroom Plumbing
Water Piping
Plumbing Pipes
Greenwood Plumbers
Plumbing System Maintenance Features and Benefits
Our maintenance services are extremely valuable to homeowners for a number of reasons. Routine maintenance will help to prevent future breakdowns of your plumbing fixtures, and it will prevent the need for any emergency plumbing repairs. Plumbing maintenance services will keep your plumbing system and your plumbing fixtures functioning well at all times and prevent any major problems from developing.
Home Plumbing System Inspections
Most people take their plumbing systems for granted—that is, until any problems occur with them. When you do encounter problems with your plumbing system, you'll need repairs performed as soon as possible. You may even find yourself in an emergency situation.
Our plumbing system inspection our designed to help you maintain the health of your plumbing system so that you won't need to have emergency repairs performed in the future. During a plumbing system inspection, our Greenwood plumbing maintenance professionals will:
Check fixtures and drains for water flow
Inspect toilets, sinks, and other fixtures for operational problems
Check water pressure and pipe connections
Inspect emergency shut-off valves
Inspect drains for clogs and blockage
Inspect water filtration systems
Inspection supply lines and drain systems
If you're looking for plumbing maintenance services, please call our Greenwood plumbers at 864-229-7117 or complete our online request form.