Package Air Conditioning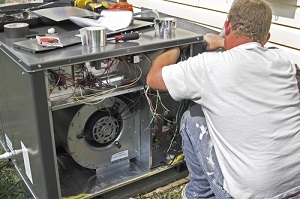 Package air conditioning in Greenwood, SC and the surrounding areas are the standard cooling unit for commercial properties. These AC units are designed to cool very large areas, making them perfect for commercial and industrial buildings in South Carolina. All the parts of this cooling unit are included in one single package, and the units are usually mounted on walls or roof tops.
An added advantage of this cooling unit is that it works efficiently and silently. Compared to the other commercial air conditioning units, package air conditioning units are considered one of the best for commercial cooling applications.
At Mathis Plumbing & Heating Co., Inc. we specialize in the maintenance, repair and installation of all makes and models of packaged air conditioners. Our experienced Greenwood commercial HVAC contractors will provide you with prompt, reliable service, on time and on budget, whenever you need us. Just give us a call!
Our Package Air Conditioning Services
Package Air Conditioning Units
Commercial Air Conditioning
Commercial Air Conditioners
Air Conditioning Contractors
Heating and Air
Air Conditioner Installation
Package Air Conditioning
Package AC
AC Repairs
AC Installation
AC Maintenance
HVAC Services
Package AC Unit Repair
Most likely, you run your commercial air conditioner or heater throughout the year to keep your business comfortable, and that means that it will experience a significant amount of wear-and-tear and naturally start to break down over time. If your package AC unit is showing any signs of damage, contact the professional air conditioning contractors at Mathis Plumbing & Heating Co., Inc. to have the problems diagnosed and repaired quickly and professionally.
Our air conditioning company will determine exactly what is causing the problems with your package AC unit, then we'll do whatever it takes to make sure that the system is totally functional and efficient.
Package Unit Maintenance
Having regular maintenance performed on your package AC unit will help you prevent major problems that may otherwise develop with the system and create the need for expensive repairs. Maintenance services also help you ensure that your package AC unit is able to run as efficiently as possible, which means that you'll be able to keep your commercial property more comfortable while keeping your energy costs as low as possible. Our professionals will thoroughly inspect and clean your package AC unit, and we'll also take care of any minor repairs that may have otherwise gone unnoticed.
We'll do whatever it takes to help you keep your package AC unit in the best condition possible, and we always guarantee your complete satisfaction with our work.
If you need a professional for package air conditioning services, please call 864-229-7117 or complete our online request form.