Commercial HVAC & Plumbing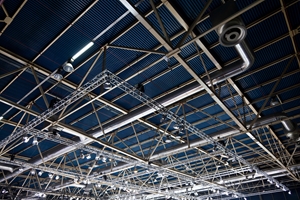 For services for commercial HVAC and plumbing in Greenwood, SC and the surrounding areas you can rely on to be done on time, on budget and with quality results, contact the expert Greenwood plumbers and HVAC technicians at Mathis Plumbing & Heating Co., Inc. today. We are experienced at providing commercial plumbing repairs, plumbing maintenance, HVAC repairs, HVAC maintenance, installations, and more. We have operated in several different commercial property settings and know how to work with many types of plumbing, cooling, and heating systems.
Our team of talented, reliable Greenwood commercial HVAC contractors and plumbers will help you ensure that your company's heating, air conditioning, and plumbing needs are met with quality results. Call today for more information on our services, products, and maintenance plans.
Our Commercial Plumbing & HVAC Services
Commercial HVAC
Commercial Plumbing
Plumbing Installation
Plumbing Maintenance
Commercial Drain Cleaning
Plumbing Repairs
Heating Repairs
Air Conditioning Repairs
HVAC Services
HVAC Repairs
Commercial Heating
Commercial Air Conditioning
Commercial Plumbing Services
Your commercial property's plumbing system is an absolutely crucial part of its comfort and functionality. Our commercial plumbers in Greenwood, SC are always available to help you keep every part of your plumbing system and all of your plumbing fixtures in the best condition possible. We are expertly trained and extensively experienced, so we'll always be able to guarantee quality workmanship. The commercial plumbing services we provide include:
Commercial Plumbing Maintenance
Commercial Plumbing Replacement
Commercial Plumbing Installations
Commercial Plumbing Repairs
Commercial HVAC Services
Whether you need to have an HVAC system installed at your commercial property or you need routine maintenance or repairs, you can always rely on the professional commercial air conditioning and heating contractors at Mathis Plumbing & Heating Co., Inc. Our commercial HVAC professionals can provide any number of HVAC services for your property, and we can work with any type of heating or air conditioning unit, including boilers, rooftop units, package AC units, heat pumps, furnaces, and more.
Our Commercial Plumbers and HVAC Contractors
Mathis Plumbing & Heating Co., Inc. has been working with business owners in the Greenville area since 1952, and our professional Greenwood plumbers and HVAC contractors are all licensed, trained, and extensively experienced. No matter what kinds of service you need for your commercial property, you can always rely on our professionals for quality workmanship and professional customer service.
Our only goal is the complete satisfaction of each of our clients, and we'll do whatever it takes to achieve that at every job that we perform.
If you need service for commercial HVAC and plumbing in Greenwood, SC or any of our nearby service areas, please call 864-229-7117 or complete our online request form.