Heating Maintenance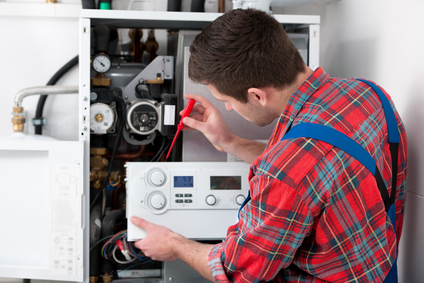 Your heating system keeps your home warm and comfortable throughout the winter months, and the best way to keep it in great condition is to have heating maintenance services performed on a regular basis. At Mathis Plumbing & Heating Co., Inc., our professional Greenwood heating maintenance specialists can perform tune-ups and inspections on your heating system to make sure that it's always in excellent condition. Our heating maintenance services will help you prevent problems with your heating system and keep it totally efficient at all times.
All of our heating contractors in Greenwood, SC are licensed and trained professionals with extensive experience, so we'll be able to provide you with the highest quality heating maintenance services possible. We'll do whatever it takes to provide you with the highest quality workmanship possible and we'll always guarantee your complete satisfaction with our work.
Annual Heating Tune-Ups
Most homeowners won't call a professional heating contractor for service until something goes seriously wrong with their heating system. However, if you're able to catch problems with your heating system earlier on, you can drastically reduce the amount of complicated repairs that your heating system ever needs. For that reason, our Greenwood heating services professionals recommend that you have your heating unit tuned up at least once each year, preferably in the fall, before you begin using your heating system regularly.
Letting problems with your heating system go untreated for any amount of time will not only lead to more complicated and more expensive repairs in the future, but it will also raise your energy costs every month. Our professionals will be able to locate any small problems that your heating system is experiencing and eradicate them before they do more damage.
Multi-Point Tune-Ups and Inspections
With our multi-point tune-ups and inspections, our heating technicians will:
Clean your filters and replace them if necessary
Check for carbon monoxide or gas leaks
Inspect the safety controls
Lubricate and inspect all motors
Inspect the seals and insulation of your air ducts (heat loss from leaky, un-insulated ducts reduces the efficiency of your heating system by as much as 30%)
Check and adjust thermostat for accurate system control
Visually inspect your heat exchanger for cracks
Examine and calibrate refrigerant controls (AC)
Verify proper amperage and voltage for your compressor and condenser motors (AC)
Our Heating Maintenance Services
Heating Maintenance
Heating Services
Heating Repairs
HVAC Maintenance
Furnace Cleaning
Heating System Repairs
Heating & Air Conditioning
Heating System Maintenance
HVAC Repairs
Furnace Repairs
Central Heating
Plumbing and Heating
If you need a professional for heating maintenance, please call our Greenwood heating contractors at 864-229-7117 or complete our online request form.