Heat Pump Repairs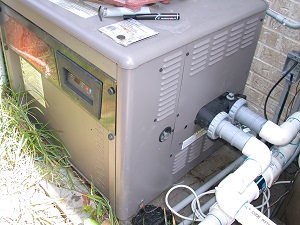 Heat pumps can help to keep your cool in the summer and warm in winter, and they can help you make your home much more energy efficient. Because they work by transferring hot air either into or out of your home rather than burning fuel to create it, they are much more efficient than other heating and cooling systems. When you rely on the Greenwood heat pump repairs professionals at Mathis Plumbing & Heating Co., Inc. for any heating services you need for your heat pump, we'll be able to guarantee that your home will be comfortable all year long, and you'll benefit from year-long energy savings.
Heat pumps in Greenwood, SC and the surrounding areas can increase the efficiency of both your air conditioning and your heating systems, and our professionals offer heat pump services that will fit your specific needs, your home, and your budget. Heat pumps will decrease in efficiency when they develop any problems, so it's very important that you have those problems repaired as soon as possible. If you've noticed and problems with your home's heat pump, call the professional Greenwood heating contractors at Mathis Plumbing & Heating Co., Inc. as soon possible to have it repaired.
Our Heat Pump Services Include:
Heat Pump Installation
Heat Pump Repairs
Heat Pump Tune-Ups
Heat Pump Service Agreements
Heat Pumps
Water Heat Pumps
Heat Pump Installation
Heat Pump Prices
Geothermal Heat Pumps
Heat Pump Repairs
Heat Pump Replacement
Heat Pump Maintenance
Geothermal Energy
Heating and Cooling
Heat Exchangers
Ground Source Heat Pumps
How Heat Pumps Work
Regardless of the temperatures outdoors, temperatures below ground-level remain relatively constant year-round. Similar to a cave, underground temperatures are warmer than above-ground in the winter and cooler than above-ground in the summer.
Heat pumps take advantage of that fact. They extract the air that is underground and pump it back into your home.
The only problem with heat pumps is that they lose much of their efficiency and effectiveness when temperatures drop below 45° F. When the outdoor air is colder than that, heat pumps will have difficulty extracting warmth from outdoors. For that reason, heat pumps are typically used as supplementary heat sources, and they can do a great job of increasing the efficiency of another heating unit.
Regardless of the temperatures outdoors, however, if your heat pump has any problems at all, it will lose its efficiency.
Quality Heat Pump Repairs
Mathis Plumbing & Heating Co., Inc. has been a heating contractor providing quality work to home and business owners in the area since 1952. We have the knowledge and experience to provide you with quality heat pump repairs whenever your need them. We'll make sure that your heat pump us totally effective and efficient.
If you need a professional for heat pump repairs, please call our Greenwood heating contractors at 864-229-7117 or complete our online request form.