Geothermal Heat Pumps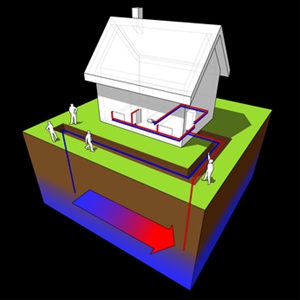 At Mathis Plumbing & Heating Co., Inc. we care about providing our customers energy efficient products that will increase their indoor comfort. We also care about helping you save energy and money on your utility bills. One of the best ways that we can help our customers do both of those things is by providing geothermal heat pumps in Greenwood, SC and the surrounding areas.
Furnaces and air conditioning systems are always becoming more energy efficient, but they still rely heavily on fossil fuels in order to operate. Energy efficient heating and AC units can certainly help you save money and lessen your impact on the environment, but geothermal heat pumps are far and away the most effective way to increase your home's heating and cooling efficiency.
Geothermal units are being installed in an increasing number of homes because of their amazing energy-efficiency. Our heating contractors are here to answer any questions that you may have regarding our geothermal heat pumps and the services we provide. Contact us today and learn more about how having a geothermal heat pump installed can save you money. We also offer repair and maintenance services for homeowners who already have geothermal heat pumps installed.
Our Geothermal Heat Pump Services
Greenwood Geothermal Heat Pumps
Geothermal Heat Pumps
Geothermal Heat Pump Installation
Geothermal Heat Pump Prices
Heat Pumps
Heat Pump Repairs
Heat Pump Replacement
Heat Pump Maintenance
Geothermal Cooling
Geothermal Heating
Geothermal Pumps
Geothermal Systems
How Geothermal Heat Pumps Work
Instead of using gas or electricity to produce heat or cooled air, geothermal heat pumps extract air from the ground. The temperatures underground stay at a relative constant of around 55° F despite outdoor temperatures, and geothermal heat pumps extract those temperatures and use them to either heat or cool your home. Depending on the outdoor temperatures, geothermal heat pumps will usually need to be used in conjunction with another system, but they can significantly improve your energy efficiency.
Benefits of Geothermal Heating and Cooling Systems
Lower Operating Costs: Whereas the most efficient gas furnaces have efficiency ratings of around 94%, geothermal systems deliver a 400% efficiency rating.
Environmentally Friendly: Geothermal heat pumps are by far the most environmentally friendly way to heat or cool your home. They don't produce carbon dioxide or monoxide, and their low demand for electricity help reduce peak grid demand.
Clean and Safe: Because no combustion is involved with these systems, there is no chance of carbon monoxide poisoning.
Lower Life Cycle Cost: Geothermal systems can last for more than 15 years, whereas furnaces typically last for around 10.
To learn more about geothermal heat pumps, or to get an estimate for installation or repair costs, please give our Greenwood heating company a call. Our friendly staff will be happy to answer any questions you have about our geothermal heat pumps, and provide you with quality services.
If you are interested in geothermal heat pumps in Greenwood, SC or the surrounding areas, please call 864-229-7117 or complete our online request form.