Generators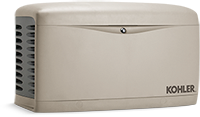 At Mathis Plumbing & Heating Co., Inc., our heating contractors offer services in generator installation, repairs, maintenance and replacement. If you are in need of services for your generator, or you're looking to install a new generator, you can count on our team to take care of the job. Our company has a great selection of generators in Greenwood, SC that are sure to suit your needs.
Home generators are designed to provide electricity in times of power shortages or malfunctions for a short duration of time. Having an emergency backup power system like a home generator in situations in which the power goes out is critical for running appliances like lights, refrigerators, heaters, and medical equipment that you may need during the outage.
Home stand-by generators not only light up the house in case of power outages but also, depending on their capacity, provide power to run appliances like:
Air Conditioners
Refrigerators
Furnaces
Television
Heating Systems
If you are interested in having a home generator installed, maintained or repair, please call our expert Greenwood heating contractors today.
Our Generator Services
Generators
Home Generators
Commercial Generators
Generator Installation
Heating Generators
Portable Generators
House Generators
Standby Generators
Gas Generators
Electric Generators
Inverter Generator
Diesel Generators
Protect Your Essential Services and Comforts
Electricity is more than just a modern convenience. More and more, we rely on electricity for basic and essential needs, so a whole-home generator can be extremely beneficial in times of an electrical outage. Stand-by generators will be able to help you keep many of the essential functions of your home going during a power outage, including your refrigeration, cooking appliances, and HVAC system.
A basic power generator will be able to prevent your food from spoiling and keep your safe and comfortable. Higher powered generators can also provide you with less essential comforts that can still be a huge benefit during any emergency situation. Radio, television, and internet services can all connect you to the modern world in case of any unsafe situation. You may also benefit hugely from microwaves, coffee makers, or many other modern conveniences.
Our heating contractors will be able to work with you to determine how much power your home and your family will require during an outage, and we'll help you choose and install the perfect generator for your home.
Why Hire Us for Your Standby Generator Services?
Mathis Plumbing & Heating Co., Inc. is dedicated to providing each of our clients with personalized service and quality workmanship. We'll always work hard to ensure that you're getting everything you need from the services we provide, and we'll do whatever it takes to guarantee your satisfaction with all of the generators and services that we provide.
If you are looking for generators in Greenwood, SC or nearby, please call 864-229-7117 or complete our online request form.