Garbage Disposals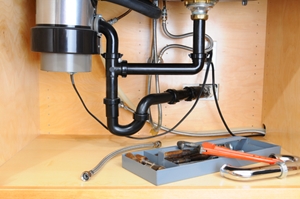 Garbage disposals are an important part of modern kitchens. They can make preparing food and cleaning a much simpler and more enjoyable process, and if they're properly installed, they can easily last for ten years or longer. At Mathis Plumbing & Heating Co., Inc., our professional plumbers can provide you with high quality garbage disposal installations, maintenance services, and repairs. We'll do whatever it takes to keep your garbage disposal in great condition, and we'll always guarantee your complete satisfaction with our work.
Our Greenwood plumbers are licensed and experienced professionals with extensive training, so we'll always be able to provide you with high quality workmanship and professional customer service. We know how important every part of your plumbing system is, and we'll do whatever it takes to make sure that your garbage disposal is always fully operational. You can trust the expertise of our plumbers to install and repair garbage disposals in Greenwood, SC and the surrounding communities.
Garbage Disposal Installation
Garbage disposals can be dangerous to install and care for. It is recommend to always contact a qualified plumber to deal with any garbage disposal installations or repairs you may encounter.
When installed correctly, a sink garbage disposal can be very handy and helpful tool to have in your kitchen. If your garbage disposal unit is properly cared for, then you can expect it to work efficiently for several years. Our professionals will make sure that your garbage disposal is properly installed, and we can provide you with any maintenance or repair services that you may need.
Garbage Disposal Repairs in Greenwood & Nearby
If your Greenwood garbage disposal is not working properly, it will grab your full attention. You turn it on and the result is a large mess. A clogged garbage disposal unit can be a major inconvenience as well as difficult to repair.
Is your garbage disposal system not working? Is the food not going down? Is it in need of replacement or repair? If your garbage disposal is clogged or has completely stopped working, call on your expert plumber today. Our Greenwood plumbing services team can take care of your garbage disposal problems in a timely manner, and we also provide garbage disposal replacement and installation services. Ensure your garbage disposal is working properly by calling Mathis Plumbing & Heating Co., Inc. today.
Our Garbage Disposal Technicians Provide These Detailed Services
Garbage Disposal Installation
Garbage Disposal Repairs
Garbage Disposal Replacement
Garbage Disposals
Sink Garbage Disposal
Removal of Garbage Disposal
Install Garbage Disposal
Garbage Compactors
Insinkerators
Compactors
Waste Disposer
Trash Compactors
If you need a professional for garbage disposal repair or installation services, please call our Greenwood plumbers at 864-229-7117 or complete our online request form.