Furnace Replacements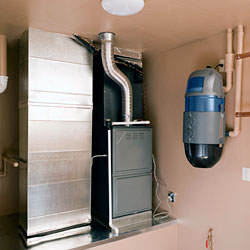 Furnaces are almost constantly under a tremendous amount of pressure and stress, especially during the winter months, which is why they require frequent maintenance and repairs in order to be kept in good condition. Furnaces require a lot of attention if they're going to remain reliable and efficient, so the Greenwood furnace replacement specialists at Mathis Plumbing & Heating Co., Inc. recommend that you have your furnace tuned up at least once every years. As long as it gets the maintenance that it needs, your furnace could last for as long as 16-20 years.
However, no matter how well-maintained your furnace is, it will eventually need to be replaced, whether it completely breaks down or simply develops too many problems to run efficiently. If a furnace doesn't get the amount of maintenance that it needs on a regular basis, it could last for as few as ten years.
You can rely on our heating contractors for any maintenance or repair services you need for your home's furnace, and when you need to have your furnace replaced, you can depend on us to tackle the job.
Our Professional Furnace Technicians
Our Greenwood heating contractors can handle every part of the replacement of any type or brand of furnace. We'll always make sure that you receive the highest quality workmanship possible, as well as the best possible customer service, and we'll always guarantee your complete satisfaction with all of our work.
Our heating contractors in Greenwood, SC are all licensed, trained, and extensively experienced, so when you hire us, you'll always know that you're working with a professional you can trust. From furnace replacements and installations to maintenance and repairs, we can handle any services that you may need for you home's furnace.
Furnace Replacement Warning Signs
If you're going to need replace your home's furnace in the near future, you'll want to know about it ahead of time. Having to pay for a furnace replacement unexpectedly can certainly be a burden, and so can having to go without heating for any period of time. If you're unaware of problems that are developing, your furnace could break at any time and leave you in an emergency situation.
Here are a few of the signs that you should look out for so that you'll know when you may need to have your furnace replaced:
Buzzing, clicking, or humming sounds come from the furnace
Rust, soot, or moisture are collecting around the unit
You've spotted leaks of any kind
It's important to remember that none of these signs mean that you'll certainly need to have your home's furnace replaced. However, they do most likely signify serious problems. If you notice any of these signs, call our heating contractors immediately, and we'll help you determine the cause and your best course of action.
If you need a professional for furnace replacements, please call our Greenwood heating contractors at 864-229-7117 or complete our online request form.