Furnace Repairs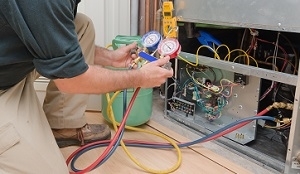 If you use a furnace to heat your home, you know how important it is to keep it functioning well and efficiently at all times. At Mathis Plumbing & Heating Co., Inc., our Greenwood furnace repairs professionals understand how important your furnace is to your home, so when you encounter any problems with it, we'll always be ready and eager to provide you with prompt and professional heating repairs. We use the latest technologies and the most advanced tools to diagnose any problems with your furnace, then to repair them thoroughly.
Our heating contractors are licensed, trained, and experienced professionals who can provide you with the highest quality workmanship possible. We'll make sure that the furnace repairs we provide are totally thorough and accurate, and we'll always guarantee your complete satisfaction with all of the work that we provide. We know what a critical role your furnace plays in the lives of you and your family, so we'll do whatever it takes to keep it in great shape at all times.
Call us today to schedule your furnace repair services, and we'll be looking forward to assisting you.
Common Furnace Problems
Furnaces are complex pieces of equipment, and any part of your furnace could experience problems at any time, but some problems are more common than others. Some of the most common furnace problems you're likely to encounter include:
Pilot Light or Ignition Problems: If your pilot light goes out frequently, it will cause your furnace to only produce heat intermittently, or it may not produce heat at all. We can find the source of this problem and fix it promptly.
Dirty or Clogged Filters: If your filters are not cleaned/changed on a regular basis, you'll notice a negative effect on your home's energy efficiency. This will increase your heating costs by making it more difficult for your furnace to heat your home. You'll be paying more for less heat.
Thermostat Malfunctions: If your thermostat doesn't function properly, you won't be able to control the temperature in your home, and you may find yourself without heating at all. Our professionals can repair your thermostat and ensure that you always have full control over your furnace and heating system.
Lack of Maintenance: A lack of proper furnace maintenance can lead to the development of a number of problem with your furnace. Furnace are constantly under a significant amount of stress and pressure, so they require a great deal of maintenance. Our Greenwood heating contractors recommend that you have your furnace tuned up at least once each year to prevent major problems from developing.
Our Furnace Repair Technicians Provide These Detailed Services
Greenwood Heating Repairs
HVAC Contractors
Furnace Repairs
Gas Furnace Repairs
Furnace Maintenance
Furnace Repair Parts
Oil Furnace Repairs
Electric Furnace Repairs
HVAC Repairs
Heating & Air
Wood Furnaces
Gas Heating Repairs
If you need a professional for furnace repairs, please call our Greenwood heating contractors at 864-229-7117 or complete our online request form.