Furnace Maintenance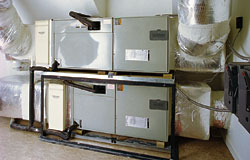 You and your family rely on your furnace throughout the winter months, and the better it's maintained, the longer it will last and the better it will run. At Mathis Plumbing & Heating Co., Inc., our expert heating contractors can provide you with excellent furnace maintenance services to help you keep your furnace running well and efficiently at all times. Our team of Greenwood furnace maintenance experts will be able to serve you quickly and efficiently, and we'll always guarantee your complete satisfaction with our work.
During our furnace maintenance services, our trained and knowledgeable heating contractors will perform a full cleaning, tune-up, and safety inspection of your furnace. This will ensure it is operating properly and providing your family with excellent heating. Our furnace maintenance service will provide you with:
lower gas bills
higher efficiency
longer life expectancy for your furnace
a safer healthier place for you and your family to live
Stop heating problems before they start by calling the heating contractors at Mathis Plumbing & Heating Co., Inc. today for furnace maintenance services that will provide you with quality results, improved air quality, and and lower utility bills.
Our Furnace Maintenance Services
Furnace Maintenance
Furnace Repairs
Gas Furnaces
Electric Furnaces
HVAC Maintenance
HVAC Services
Oil Furnaces
Furnace Filters
Trane
Heating Services
Wood Furnaces
Gas Heating
Furnace Tune-Ups
Our professionals heating contractors recommend that you have annual tune-ups performed for your furnace to help prevent any unexpected problems from developing during the winter months. Furnace tune-ups will also increase the lifespan of your furnace while also keeping your heating costs low.
The best way to keep your furnace running as efficiently as possible is to have tune-ups performed. Our heating contractors will inspect your furnace and take care of any smaller problems before they do more damage and become much more serious. We'll also check your air delivery system and ensure that our ducts are able to distribute heat throughout your home efficiently.
Furnace Safety Inspections
During system checks and tune-ups, we'll also check to make sure that your home's furnace is safe for operation. Some of the things we'll do doing a safety check include:
Check the duct system for carbon monoxide.
Look for any combustible materials around the furnace.
Test the ignition system to ensure it functions properly and safely.
Test the exhaust system to ensure that it's venting properly.
Test the safety and control circuits for proper operation.
Check for natural gas leaks.
Our Greenwood heating contractors understand the importance of safety in your home, and we'll do whatever it takes to make sure that your furnace operates totally safely.
If you need a professional for Furnace Maintenance, please call our Greenwood heating contractors at 864-229-7117 or complete our online request form.