ePipe Restoration Process and Benefits
Rusty pipes, pinhole leaks, and low water flow are a just a few problems you may experience in your home that can be solves with our ePIPE and Ace Duraflo services. Rather than replacing the pipes in your plumbing system, our epoxy pipe restoration services can be a great solutions to these problems, and they won't require digging or break down any walls. This can save building owners and homeowners thousands of dollars while also minimizing the amount of intrusion and disruption the process causes. It's no wonder more and more locals are turning to our Greenwood ePipe restoration professionals to fix their water pipe problems.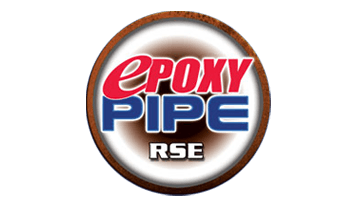 How Our ePIPE and Ace Duraflo Process Works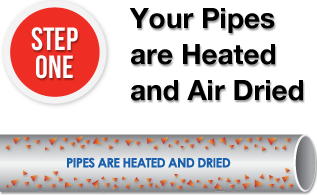 Step One: Your Pipes are Heated and Air Dried
Air hoses are connected to the piping system. The isolated system is then dried with preheated, filtered air.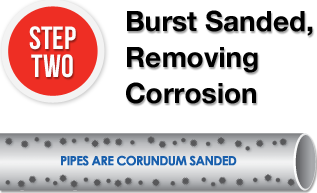 Step Two: Burst Sanded, Removing Corrosion
The dried pipes are cleaned using an air and abrasive mixture that prepares the inside surface of the pipes for proper bonding of the epoxy. An air and corundum mixture is used to sandblast the inside of the leaky pipes.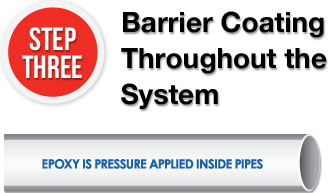 Step Three: Barrier Coating Throughout the System
The final stage of the ePIPE pipe restoration process is the application of the copper pipe epoxy coating lining to the system.
Benefits of EPIPE Pipe Restoration
Stops Pinhole Leaks: The epoxy lined pipe, ePIPE® will last for years, preventing leaks in your piping system.
No Wall Damage: The patented ePIPE® process restores your pipes without the mess and expense of a repiping job.
Cost Effective: Because there is no need to destroy walls, ceilings, or floors, you save a significant amount of money in reconstruction costs.
Better Than New: The ePIPE® process is quiet and unlike a repiping construction job, ePIPE® restoration takes place within the pipe.
Improved Water Flow: Significant build up of pipe corrosion or pinhole leaks can cause low water flow. The ePIPE® process gives you the flow your system was intended to deliver.
Clean Water: No more rusty water or water discoloration. No more lead or copper contamination. ePIPE® provides a safe, clean, epoxy-lined piping system.
Our Epipe & Ace Duraflo Process Services
ePipe Repairs
Ace Duraflo Pipe Repairs
Water Pipe Restoration
ePipe Restoration
Pinhole leaks
Water Pipe Lining Restoration
ePipe Lining Restoration
Water Pipe Leak Restoration
Ace Duraflo Process
Epoxy Pipe Restorations
Duraflo Pipe Restoration
Epoxy Pipe Lining Restoration
Ace Duraflo Pipe Restoration
To learn more about our epoxy pipe lining and restoration services, please contact our Greenwood plumbing company today. Our plumbers would be happy to answer any questions you have about this service as well as the many other plumbing services we offer, such as repiping and repipe alternatives.
If you are interested in learning more about our ePipe restoration services, please call our Greenwood plumbers at 864-229-7117 or complete our online request form.