Ductless Split Air Conditioning & Heating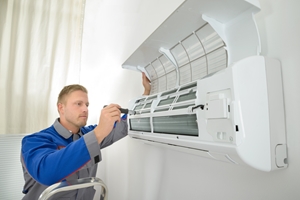 Ductless heating systems are perfect for any homeowners who are interested in keeping their homes more comfortable throughout the winter months while also keeping their energy costs as low as possible every month. Greenwood ductless split air conditioning and heating systems are extremely energy efficient and reliable systems for both heating and cooling, and they can be installed in the exact locations where you need them most.
Our professionals can install a ductless split HVAC system in your home to help you gain a greater control over of your the temperatures in a particular part of your home while keeping your energy costs low. Call Mathis Plumbing & Heating Co., Inc. today if you're interested in a ductless system, and we'll be looking forward to working on this project with you.
Benefits of Ductless Systems
Increased Comfort: Ductless systems will distribute heated or cooled air throughout your home more efficiently and more effectively that tradition HVAC systems, which means that you'll be able to keep your home more comfortable.
Monthly Savings: Our air conditioning company can install these systems as primary heat sources in your home. Ductless systems will be able to heat and cool your home for a fraction of the cost of more traditional systems.
All-in-One Heating and Cooling: During the summer and the winter, ductless systems will provide you with easily controllable comfort throughout your home. A ductless system will provide you with both heating and air conditioning , so you'll have energy efficiency and comfort all year long.
Low-Cost Installations: Compared to other installations, which require expensive and invasive duct work, the installation of these systems is easy and low-cost—plus, they'll let you retain the original aesthetic of a room.
Clean Air: Ducts will often accumulate dust, pollen, germs, mildew, mold, or other pollutants which will then be distributed throughout your home and pollute your indoor air. Ductless systems will only circulate clean, fresh air throughout your home.
Greenwood Ductless Split HVAC Systems Are Ideal For:
New Additions
Retrofits
Finished Basements
Sun Rooms
Offices
If you are interested in learning about the various brands of ductless heating and air conditioning systems available, or would like to schedule for service on your ductless mini-split system, contact the expert Greenwood heating and air conditioning contractors at Mathis Plumbing & Heating Co., Inc. today.
Our Ductless Split HVAC Technicians Provide These Detailed Services
Ductless HVAC
Ductless Mini Split
Ductless Air Conditioner
Ductless Heating
Air Conditioning Units
Heating and Air Conditioning
Split Air Conditioners
Air Conditioning Systems
Split Air
Mini Splits
AC Units
Mini Split Ductless
If you need repairs or installation for a ductless split air conditioning and heating system, please call 864-229-7117 or complete our online request form.