Duct Cleaning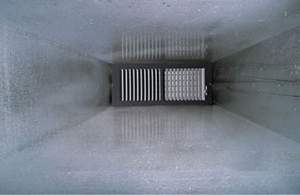 Your air ducts are what distribute heated or conditioned air throughout your home, and if they become blocked or clogged in any way, it can negatively impact your home's energy efficiency and its indoor air quality. Dirty ducts can make it more difficult for your heating and cooling systems to regulate the temperatures in your home, which means that your home will be less comfortable while your energy costs will be much higher. Your ducts are also likely blocked with any number of contaminants and pollutants which will be circulated throughout your home every time you turn on your heater or air conditioner. Keep your HVAC system - and your family - healthy with the help of our Greenwood duct cleaning professionals.
At Mathis Plumbing & Heating Co., Inc., our Greenwood air conditioning professionals offer duct cleaning services to help you keep your heating and cooling systems in great shape and your home's indoor air as healthy and comfortable as possible. Our professional heating and air conditioning contractors in Greenwood, SC are all licensed professionals with extensive training and experience, so we'll be able to provide you with the highest quality duct cleaning services possible. Our air conditioning company will do whatever it takes to keep your HVAC system in great shape, and we always guarantee your complete satisfaction with our work.
Our Duct Cleaning Services Include:
Duct Cleaning
Duct Inspections
Duct Work Installations
Recognizing Poor Indoor Air Quality
Without regular duct cleaning services, many contaminants and pollutants can build up in your duct system, and each time you use your HVAC system, those will be circulated throughout your home's indoor air. Some of the contaminants may include:
Pet dander
Dust mites
Black mold
Fungus
You may be able to identify poor indoor quality based on recurring health symptoms of members of your household. These may include:
Sneezing
Dizziness
Allergies
Headaches
Migraines
Flu-Like Symptoms
General Malaise
Depending on what is polluting your indoor air, the symptoms can be much worse, and in the long-term, they can lead to very serious health issues. Our duct cleaning services will help you keep your indoor air as clean as possible at all times so that your home can be as healthy as possible.
Duct Cleaning and Energy Efficiency
Most homeowners know that they should change their air filters regularly, about every two months during the heating and cooling seasons, in order to maintain the energy efficiency of their HVAC systems. In the same vein, cleaning your air ducts will help you keep your home as energy efficient as possible. The services our Greenwood duct cleaning specialists offer will help you conserve energy and improve your temperature control, which means that you'll be able to keep your home more comfortable and have lower energy costs.
If you need a professional for Duct Cleaning, please call our Greenwood heating contractors at 864-229-7117 or complete our online request form.