Drain & Sewer Repairs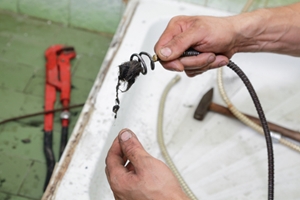 Your main drainage system and sewer line is the most important plumbing component to your home. The main sewer line of a home will collect all the debris of the other drains that are connected to it and flush the debris into the city sewer systems or into your private septic tank. Keeping your drain and sewer lines in the best condition possible is the only way to keep your plumbing system in great shape and to keep your home comfortable. But what if you don't keep up with regular maintenance like drain and sewer cleaning, or you acquire a home or business that's already in need of drain and sewer repairs in Greenwood, SC or the nearby areas?
Unfortunately, many of the countless pipes beneath our homes, including the main sewer line, are old and worn out. Though durable, these sewer pipes are not invulnerable to disruption caused by outside forces. Tree roots commonly cause clogs or damage to sewer lines which require professional cleaning and repair services from a professional Greenwood drain and sewer company.
The most common sewer line problems include:
Normal wear and tear as the line ages
Roots from plants or trees intruding into the line
Settling of soil
Improper installation
Not addressing sewer line problems can result in more significant problems that can be detrimental to your home and your plumbing system. If your plumbing starts backing up or you suspect you need a new sewer line, then you should contact your local Greenwood sewer and drain repair specialists at Mathis Plumbing & Heating Co., Inc. today.
Main Sewer Line Repair
The line that connects your home's waste system to the main sewer line or to your septic tank is one of the most important parts of your drainage system. If this line breaks or is leaking at all, it can be a potential health thread, and it can cause a significant amount of damage to your home. Repairing these sewer lines should always be handled by a professional drain and sewer repair contractor, and at Mathis Plumbing & Heating Co., Inc., we can guarantee the highest quality repairs possible.
We can use a video pipe inspection to locate the precise problems that are occurring with your sewer line, and our plumbers are fully licensed and certified to handle any sewer line maintenance or repair services.
Drain Cleaning
Regular drain cleaning services are an important part of the maintenance that your plumbing system requires. Our plumbers offer customized maintenance plans and drain inspections can help you ensure that your drains and sewers are always in the best condition possible. Our drain cleaning company will help you keep your plumbing system and your pluming fixtures in the best condition possible.
If you need a professional for drain or sewer repairs in Greenwood, SC or the surrounding areas, please call 864-229-7117 or complete our online request form.