Drain & Sewer Maintenance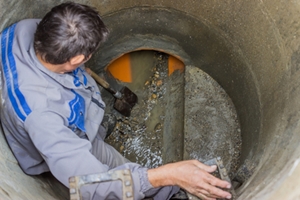 Proper drain and sewer maintenance in Greenwood, SC and the nearby areas is important for keeping your plumbing system working efficiently and preventing costly damages. The drains and sewer lines in your home are an integral part of your plumbing system, and even if you can't tell, they could be backed up right now. Often, homeowners don't have their drains or sewer lines looked at by a sewer and drain maintenance professional until they encounter major problems, but many of those problems can be prevented with regular maintenance.
To prevent drain and sewer odors, clogs, and other problems, you should have professional drain and sewer maintenance performed on your plumbing system on a regular basis.
At Mathis Plumbing & Heating Co., Inc., we offer prompt, reliable drain cleaning and sewer maintenance services that will keep your pipes running smoothly and working properly all year round. Our drain cleaning company will schedule your maintenance services to work with best for you, and we'll always be ready and eager to do whatever it takes to keep them fully functional and totally efficient.
Tips for Keeping your Greenwood Drains & Sewer Lines Clog Free
To keep your repair costs at a minimum, here are some self-help tips we know you'll find useful:
Never pour grease down your kitchen drain!
Pour a pot of boiling water down all drains at least once a month, more often if possible.
Add a half-cup of baking soda to boiling water poured in the disposal.
Always use a screen or filter (hair snare) over lavatory and tub drains to snag hair and objects that may sneak into your drain during bathing.
Toilet overflow: Have on hand a plunger and sewer snake and know how to use them. Start with the plunger, then move to the snake. Even if you think you've moved the clog, fill the toilet bowl with a bucket of water instead of flushing. If the water doesn't go down, the clog is still there. And then it's time to call the professional plumbers at Mathis Plumbing & Heating Co., Inc.
Our Drain & Sewer Maintenance Services
Drain Maintenance
Sewer Maintenance
Drain Cleaning
Sewer Cleaning
Unclogging Drains
Sewer Repairs
Drain Repairs
Plumbing Maintenance
Commercial Plumbing
Residential Plumbing
Drain Cleaners
Drain Jetting
Why Hire Us for Your Drain & Sewer Maintenance Services?
All of our Greenwood drain cleaning contractors are licensed and trained professionals who have extensive experience in their fields. We'll be able to complete all maintenance tasks quickly and efficiently, and we'll always be able to guarantee that the job is done as well as possible. We look forward to assisting you.
If you need a professional for drain and sewer maintenance, please call our Greenwood drain cleaning company at 864-229-7117 or complete our online request form.