Drain and Sewer Installation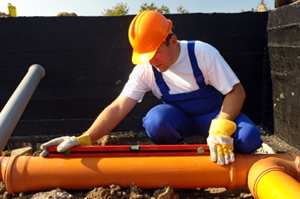 When it's time to install new drains or a new sewer lines for your home, it's very important that you know the job will be done right and performed by professional plumber. Drains and sewer lines are two of the most important parts of your plumbing system, and that in turn is one of the most important parts of your home, so you need to know that they're properly installed. There are a number of factors to take into consideration during sewer and drain installation in Greenwood, SC and the surrounding areas, such as the removal process for any existing pipes, accessing your sewer line without causing unnecessary damage to your property, and ensuring that any drains or sewer lines installed match the needs of your home's plumbing system.
At Mathis Plumbing & Heating Co., Inc., our Greenwood drain and sewer professionals can provide you with the highest quality drain and sewer installations possible. Our plumbers in Greenwood, SC are all licensed and trained professionals with extensive training and experience, and we'll always guarantee your complete satisfaction with our work.
The Drain & Sewer Installation Process
Depending on exactly what you need to have installed at your home, the installation process will vary. A drain line a new bathroom needs to be connected to the central drains in your home, while a replacement for an existing fixture in your kitchen or bathroom can be installed with relatively little renovation as long has your home has sufficient drains. You may need to have new drain pipes installed for certain new fixtures.
Sewer line installation is a much more intensive and difficult job. Most of the time, because the scope of a sewer line installation is so large, it's not done until it has to be. This means that most sewer line installations are n emergency service performed after a leak has developed.
Drain and sewer installations usually take a couple of hours depending on the accessibility of your home's pipes. Some jobs may take a couple of days.
Our Drain & Sewer Installation Services
Epoxy Drain Pipe Lining
Sewer Installation
Plumbing Installation
Plumbing Services
Epoxy Sewer Pipe Lining
Pipe Lining
Sewer Pipe Lining
Sewer Pipe Replacement
Drain Pipe Replacement
Installing Kitchen Drains
Commercial Drains
Septic Tanks
Why Hire Us for Drain & Sewer Installations?
Mathis Plumbing & Heating Co., Inc. has been providing quality plumbing repairs to home and business owners since 1952. Our team of sewer and drain line installation experts is experienced, trained, and fully licensed, so we'll be able to handle every aspect of any job that you need. We'll work with you determine the best way to install drains or sewer lines, and we'll tailor the job to fit with your home and your schedule.
If you need a professional for sewer line or drain installation in Greenwood, SC or nearby, please call 864-229-7117 or complete our online request form.