Design-Build Services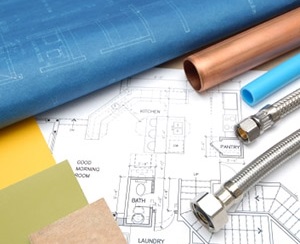 At Mathis Plumbing & Heating Co., Inc. we are experts at commercial design-build services in Greenwood, SC and the surrounding areas relating to commercial plumbing, heating and air conditioning systems. Our experienced and talented Greenwood commercial HVAC contractors can design an HVAC system that will not only suit the needs of your business, but will also provide energy savings and maximum efficiency. Likewise, as your Greenwood plumber we can design and construct the perfect plumbing and drainage system for your commercial property.
HVAC systems provide approximately thirty percent of the energy used by manufacturing companies and are common for small business use as well. A good Greenwood air conditioning system design not only cools a building but reduces energy consumption, improves air quality, and is not harmful to the environment.
An HVAC system for an industrial or commercial property can have different combinations of heating and cooling devices. These systems can include a boiler, furnace, heat pump, rooftop unit, or electric heating unit. Common cooling systems include rooftop units, heat pumps, chillers, and basic air conditioning units. Knowing the right combination for specific commercial applications is a skill, and you need an experienced commercial air conditioning and heating contractor to provide maximum efficiency and value for your investment.
For reliable commercial design/build services that are on time, on budget, and implemented correctly, call the experts at Mathis Plumbing & Heating Co., Inc. today!
Our Plumbing & HVAC Design-Build Services
Commercial Design Build
HVAC Design Build
Plumbing Designs
Commercial HVAC
Design and Build Services
Plumbing Pipe Placement
Building Design
Bathroom Designs
Piping Engineers
Duct Work
AC Systems
Piping Design
Benefits of Design-Build HVAC Services
Because our HVAC contractors are involved throughout the design stages of the project, they'll be able to more efficiently and accurately build your commercial heating, air conditioning, and ventilation new system. The benefits of this design-build system include:
Lower costs
Improved communication between project teams and team members
Reduced need for redesign and re-pricing
Improved budgeting
Accelerated project completion
Improved teamwork
Reduce Project Costs With Design-Build Services
Changing your process can lead to increased efficiency, quality, and cost reduction for your HVAC systems. When one company has the responsibility for the design and construction phase of the project, this change can offer tremendous benefits.
Our design-build services help you reduce costs in the following ways:
Define your budget early on. Our experts will be able to use their specialized knowledge to identify how the budget can be spent best.
With freedom to plan labor schedules and material acquisition methods, complex projects can be better managed.
Accelerated completion dates provide a faster ROI.
If you need commercial HVAC or plumbing design-build services in Greenwood, SC or any of our nearby service areas, please call 864-229-7117 or complete our online request form.