Commercial Plumbing Maintenance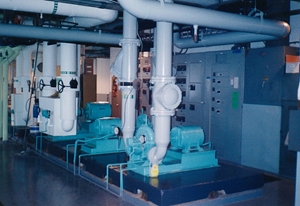 When it comes to commercial plumbing maintenance, the services offered by Mathis Plumbing & Heating Co., Inc., your Greenwood plumber, are in high demand. Our Greenwood plumbers are experienced and trained to provide quality commercial plumbing maintenance services to help keep your commercial property's plumbing system clean and running efficiently.
Our commercial plumbing maintenance services are undertaken by experienced, professional Greenwood plumbers that are experts when it comes to working in large scale industries or places of business. Our team can maintain and repair each of the following commercial plumbing systems and fixtures:
Sewer, drain and water piping inside and out
Shower systems and tubs
Faucets and anti-scald faucets for your sinks
Toilets, including low-water consumption toilets to help conserve water with no loss of pressure
Sump pumps
Garbage disposals
Back flow preventers
Repairing all leaks (water or gas)
Gas piping installed and repaired
All types of water heaters repaired and replaced
If you have commercial plumbing maintenance needs, our professional staff of plumbers in Greenwood, SC can take care of your commercial property's plumbing and drainage system with quality results. Call us today to learn more about our maintenance and protection plans.
Our Commercial Plumbing Maintenance Services
Commercial Plumbing Maintenance
Commercial Sewer Maintenance
Commercial Water Treatment
Commercial Bathroom Plumbing
Leak Detection
Plumbing Maintenance
Commercial Plumbing
Commercial Drain Cleaning
Pipe Repairs
Drain Cleaning
Plumbing Repairs
Sewer Repairs
Preventative Maintenance for Commercial Plumbing Systems
Problems with your commercial property's plumbing system can be major disruptions in your daily operations. Our commercial plumbing maintenance services are designed to help you keep your plumbing system in the best condition possible at all times and to prevent any serious problems from developing with any part of the system. During our maintenance services, our Greenwood commercial plumbing professionals will:
Look for signs of leaks in exposed pipes, where pipes run through the walls or the foundation of your home. Signs of a leak include puddles of water and watermarks.
Look for signs of corrosion. Corrosion of pipes can cause leaks and bad pipe connections if not corrected. A sign of corrosion is green stains around brass and copper fittings and on shutoff valves, and yellow or orange stains on old steel pipe..
Test water pressure. Water pressure is with how much force the water comes out of sink faucets and shower heads. Low water pressure can be a sign of sediment build up in the faucet or shower head. It may also be a sign of a problem with the water line.
Remove the shower head to look for any sediment that may have collected in it. This may be a cause of lower the water pressure.
If you need a professional for commercial plumbing maintenance in Greenwood, SC or nearby, please call 864-229-7117 or complete our online request form.