Commercial HVAC Replacement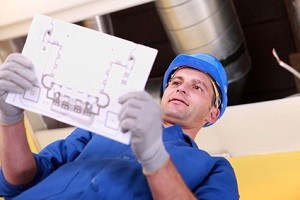 Mathis Plumbing & Heating Co., Inc. goes beyond providing quality commercial HVAC replacements in Greenwood, SC and the surrounding areas. We've become our commercial customers' strategic partner, providing a broad range of HVAC services customized to ensure system dependability, efficiency, and longevity. That's the peace of mind we offer that allows our commercial customers to focus all their attention and resources on their business to optimize their return on investment.
Business and commercial property owners are challenged with getting the most out of their investment day in and day out. It is important that your commercial property function at the highest levels of efficiency and reliability, providing both your employees and customers with a comfortable and healthy environment.
To accomplish these objectives, commercial property owners must have reliable, consistent, efficient heating, air conditioning, and ventilation systems. When you need HVAC system performance that you can depend on and not worry about, call the professional heating contractors at Mathis Plumbing & Heating Co., Inc. We can provide you help you choose the HVAC systems and units that would be best for your property, and we can handle every aspect of the replacement.
You shouldn't have to worry about your commercial HVAC system. If you suspect your heating and air conditioning system are not running as well as they should, call our commercial HVAC professionals today for commercial HVAC system replacement services. We'll help you choose the HVAC system replacement that suits your company's needs and budget, ensuring you will get optimum energy efficiency that will save you money in the long run. Call today for a free estimate.
Our Commercial HVAC Replacement Services
Commercial HVAC Replacement
Commercial HVAC Repairs
Commercial HVAC Installation
Commercial HVAC Contractors
Boiler Replacement
Air Conditioner Replacement
Heat Pump Replacement
Furnace Replacement
AC Installation
Heating Installation
AC Replacement
Commercial HVAC
Optimized Comfort and Energy Efficiency
Your commercial property's HVAC system needs to be able to keep your property totally comfortable while also keeping your energy costs low. Our Greenwood heating and air conditioning professionals will always be able to ensure that your replacement HVAC system functions at peak efficiency so that your property can be as comfortable as possible while your energy costs are kept low. We'll help you choose the perfect HVAC system to help you accomplish this, and we'll provide you with any kind of maintenance or repair services that you may need in order to keep your commercial heating and cooling systems in the best condition possible at all times.
If you need a reliable professional for commercial HVAC replacement in Greenwood, SC or any of our nearby service areas, please call 864-229-7117 or complete our online request form.