Commercial HVAC Repairs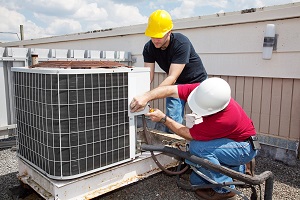 If you own a business or a commercial property, its heating and air conditioning systems are two of your biggest expenses, and keeping them in great shape is one of your biggest priorities. When you encounter any problems with either of these systems, you need a professional air conditioning and heating contractor who you know you can trust for quality commercial HVAC repairs in Greenwood, SC or the surrounding areas. At Mathis Plumbing & Heating Co., Inc., our commercial heating and air conditioning professionals will always be able to provide you repairs that are prompt, thorough, and accurate.
Our Greenwood commercial HVAC professionals are licensed, trained, and experienced commercial heating & air conditioning contractors who you can always depend on for superior service and excellent work. We understand how important your HVAC system is to your property, so we don't take our responsibilities lightly. We'll do whatever it takes to diagnose and eliminate any problems with your HVAC system quickly and professionally, and we'll always guarantee your complete satisfaction with our work.
Our Commercial HVAC Repair Services
Commercial HVAC Repairs
Commercial Air Conditioning Repairs
Commercial Air Conditioning
Commercial HVAC Maintenance
Commercial Heating Repairs
Air Conditioner Repairs
Heat Pump Repairs
Commercial HVAC
AC Repairs
Heating Repairs
Boiler Repairs
Furnace Repairs
HVAC Repairs For Any Commercial or Industrial Property
Our commercial air conditioning and heating contractors are certified to meet the heating needs of commercial properties of all kinds, including:
Schools and Colleges
Computer Rooms
Office Buildings
Municipal Buildings
Industrial Facilities
Medical Buildings
Apartment Complexes
And More
Call us today to ask any questions you have about our services, or to schedule your appointment, and we'll be looking forward to working with you.
Emergency Repairs for Commercial HVAC Systems
You won't always be able to notice when there are problems developing with your commercial heating or air conditioning system, so the system may break down and leave you in need of emergency repairs. At Mathis Plumbing & Heating Co., Inc., we are available 24/7 to assist you with any problems that unexpectedly occur with your commercial HVAC system. We understand that won't always have time to wait for an appointment, or even for regular business hours to resume, so we'll be ready at any time to provide you with the highest quality repair services possible.
Why Hire Us for Commercial HVAC Repairs?
Mathis Plumbing & Heating Co., Inc. was started in 1952 by Ralph Mathis, a trusted and well known Greenwood plumber. Since then, our company has grown to provide quality commercial plumbing, heating and air conditioning services throughout the Greenwood, SC area. With over 60 years of continued service and customer satisfaction, Mathis Plumbing & Heating Co., Inc. is the company you can count on for commercial HVAC repairs.
If you need a professional for commercial HVAC repairs in Greenwood, SC or any of our nearby service areas, please call 864-229-7117 or complete our online request form.