Commercial HVAC Maintenance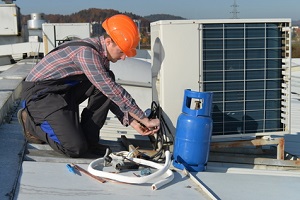 Heating and air conditioning systems are one of the most important parts of any commercial property, and keeping these systems in great shape is one of your biggest priorities. Not only do you need to know that you heating and air conditioning systems are always totally reliable and functional, but you also need to know that their as efficient as possible so that you can keep your commercial property's energy costs as low as possible.
At Mathis Plumbing & Heating Co., Inc., our Greenwood commercial HVAC maintenance professionals offer a wide range of heating and air conditioning services that are designed to keep your heating and cooling systems in the best condition possible at all times. Our team of experienced Greenwood commercial HVAC technicians are trained to use the latest indoor air quality test equipment and provide quality maintenance services such as duct cleaning for your heating, ventilation, and air conditioning systems.
For quality HVAC maintenance services you can count on, call us today, and we'll be looking forward to assisting you.
Our Commercial HVAC Technicians Provide These Maintenance Services
Commercial HVAC Maintenance
Commercial HVAC Repairs
Commercial HVAC Installation
Commercial HVAC Contractors
Duct Cleaning
Air Conditioning
Heating Repairs
AC Maintenance
HVAC Maintenance
Air Duct Sealing
AC Repairs
Commercial HVAC
Commercial HVAC Tune-Ups
Our commercial HVAC tune-ups are designed to help you guarantee that every part of your HVAC system is safe, efficient, and fully functional throughout the year. Our commercial heating and air conditioning professionals recommend that you have tune-ups performed regularly, preferably in the spring and fall, before the cooling and heating seasons respectively begin. During a tune-up, our contractors will provide the following:
A professional cleaning.
A safety check of your heating and cooling equipment.
The adjustment of components as needed to ensure your heating and cooling equipment operates reliably, efficiently, and at peak performance.
We'll find any problems that are developing with your air conditioner and make sure that they're taken care of before they develop into major issues that can be detrimental to the health of your commercial HVAC system. We'll also make sure that your HVAC system is running as efficiently as possible so that you're not overpaying for the energy costs of keeping your commercial property as comfortable as possible throughout the year.
Why Hire Us For Commercial HVAC Maintenance Services?
Mathis Plumbing & Heating Co., Inc. has been working with home and business owners in the area since 1952. In that time, we've developed a strong reputation as a trustworthy plumbing, heating, and air conditioning company by consistently providing our clients with quality workmanship and professional customer service. We'll always provide you with the highest quality commercial HVAC maintenance services possible.
If you need a professional for commercial HVAC maintenance in Greenwood, SC or any of our nearby service areas, please call 864-229-7117 or complete our online request form.