Commercial HVAC Installation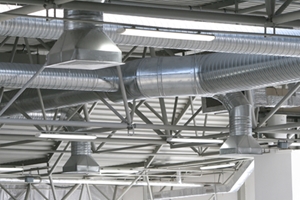 If you own or operate any kind of commercial property, keeping it as comfortable as possible at all times is a major priority to you. When you're having an HVAC system installed, you need to know that you're working with a professional commercial HVAC contractor you know you can trust with the job. At Mathis Plumbing & Heating Co., Inc., our heating contractors can work with you to design every aspect of your commercial HVAC system and we can install the system promptly and professionally. When you work with our heating and air conditioning company, you'll understand why so many local businesses turn to us when they need commercial HVAC installation in Greenwood, SC and the surrounding areas.
Some commercial heating and air conditioning systems are more complex, while others are very simple. A basic HVAC system is often used for a single zone in a plant, and modifications are often performed to create an effective system for multi-plants or large commercial spaces.
Types of Commercial HVAC Systems
Commercial HVAC systems are made up of many types of units. These systems can include:
boilers
furnace
heat pumps
rooftop units
electric heating units
Common cooling systems include:
rooftop units
heat pumps
chillers
basic air conditioning units
If your Greenwood area commercial property is in need of quality commercial HVAC installation services that you can rely on to be done correctly, call Mathis Plumbing & Heating Co., Inc. We have a reputation for providing quality results, and our qualified commercial HVAC technicians are experienced in dealing with all types of commercial HVAC systems. Call us today and we'll be looking forward to assisting you!
Our Commercial HVAC Installation Services
Commercial HVAC Maintenance
Commercial HVAC Repairs
Commercial HVAC Installation
Commercial HVAC Contractors
Boiler Installation
Air Conditioners
Heat Pump Installation
AC Installation
Air Conditioning Installation
Heating Installation
Furnace Installation
Commercial HVAC
Why Trust Us With Your Commercial HVAC Installation?
When you're having any part of your commercial HVAC system worked on, you need to know that you're getting the highest quality workmanship possible. Mathis Plumbing & Heating Co., Inc. has been providing quality plumbing services to businesses and commercial property owners in the area since 1952, and our Greenwood commercial heating and air conditioning professionals can always guarantee your complete satisfaction with all of the work that we provide.
We Service What We Install
After we've installed your new HVAC system and you're using it on a regular basis, we'll always be around to provide you with any maintenance or repair services that you may need. We'll work hard to ensure that your commercial HVAC system is kept in great condition at all times.
If you need a professional for commercial HVAC installation in Greenwood, SC or any of our nearby service areas, please call 864-229-7117 or complete our online request form.