Boiler Replacement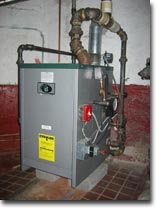 Many commercial properties use boilers as their primary heat source, and boilers can be an excellent and efficient type of heating unit. However, most older boilers operate at as little as 50% efficiency, and the average commercial boiler in place today operates at only 60% efficiency. New boilers installed by our professional Greenwood boiler replacement pros at Mathis Plumbing & Heating Co., Inc. offer an 85% efficiency rating, which can often pay for the cost of the new boiler in 2 years or less from money saved on fuel.
We believe that the best service we can perform for our commercial customers looking at a possible boiler replacement is to help them properly evaluate their heating requirements and consider issues such as air quality. Our team of talented, reliable heating contractors will help you ensure that your new commercial boiler replacement is adequate for your company's needs.
Our Commercial Boiler Replacement Services
Commercial Boilers
Boiler Replacement
Boiler Installation
Boiler Maintenance
Heating Repairs
Boiler Repairs
Gas Boilers
Oil Boilers
Fixing Leaking Boilers
HVAC Services
HVAC Repairs
Boilers
Commercial Boiler Repairs
There are two main types of boilers: hot water boilers, and steam boilers.
Hot water boilers will heat water, then send it to your radiators at about 160 degrees. When the water gets cooler, it will circulate back to the boiler to be reheated.
Steam boilers work similarly, but they are more complex. They're also much more rare and most of the time need to be converted to water boilers in order to be as efficient as possible. They'll turn the water to steam, then send out to the radiators, and when it cools enough to become a liquid again, it's sent back to the boiler.
We can help you repair either kind expertly, and we can convert your steam boiler to water if it will benefit your commercial property. If repairs cannot solve the problems that you're facing with your boiler, our Greenwood commercial hvac professionals can handle every aspect of the replacement.
Why Choose Us For You Boiler Replacements?
Your commercial property's energy efficiency is one of your business' main concerns, so when you're replacing your property's boiler, you need to know that the job is being done well. At Mathis Plumbing & Heating Co., Inc., we know how important your heating is, and our heating contractors will always strive to provide you with the highest quality services possible. Whether you need to have your boiler converted, repaired, or replaced, we'll always be ready and eager to tackle the job.
If you need a professional for commercial boiler replacement in Greenwood, SC or any of our nearby service areas, please call 864-229-7117 or complete our online request form.