Awards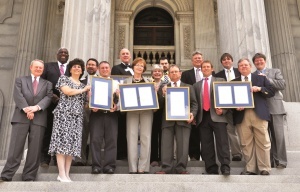 Over the years, Mathis Plumbing & Heating Co., Inc. has often received recognition for excellence in customer service, industry leadership and community involvement.
Readers' Choice Award
Mathis Plumbing has since inception been awarded The Reader Choice Award ever year by local residents of Greenwood and the Lakelands area for providing the best plumbing service, as well as the best heating and cooling service in the area.
Simply the Best
We have consistently been recognized as a "Simply the Best Company" throughout Greenwood and The Lakelands. We also have been recognized by The Nexstar Network – an international association of plumbing, heating, cooling, and electrical contractors – as one of the Top 10 companies for financial performance.
Jeffrey Butland
We received the 2009 Jeffrey Butland Family-Owned Business of the Year award for both South Carolina and the 8-state Southeast Region.
Other Recognitions and Associations
We are proud members of a number of trade associations as well as the Greenwood Chamber of Commerce, the Greenwood Economic Alliance, and more.
Mathis Plumbing & Heating Co., Inc. will continue to support and provide assistance to charitable and nonprofit associations and projects to help make our local communities better places to live.
If you would like to learn more about the awards our plumbing, heating and air conditioning company has received, please call 864-229-7117 or complete our online request form.