Air Conditioning Repairs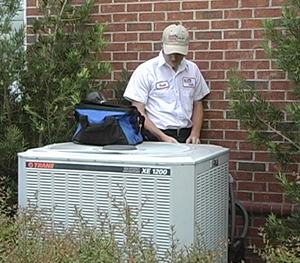 Keeping your home cool and comfortable during the winter months is a major priority to you, so when you have any problems with your home's cooling system, you need prompt and professional air conditioning repairs. When you need an air conditioning company, you can rely on the professional Greenwood air conditioning repairs team at Mathis Plumbing & Heating Co., Inc. We understand how important your air conditioning to your home, so we'll always do whatever it takes to make sure that it's in the best condition possible.
All of our Greenwood air conditioning contractors are licensed, trained, and extensively experienced, so we can always provide you with the highest quality repairs possible. We'll work quickly to diagnose any problems you're experiencing, and we'll make sure that our repairs are totally thorough and accurate. As always, all of the work that we provide comes with a 100% satisfaction guarantee.
What You Get From Out Central Air Conditioning Repair Services
Dependable AC repairs
Qualified technicians who will listen to your concerns and find the best solutions to your problems
Trained air conditioning contractors who treat your property with respect and provide high quality service
You and your family rely on your home for comfort every day, so keeping your cooling system repaired and maintained is very important. At Mathis Plumbing & Heating Co., Inc., our goal is to help you keep your home comfortable year-round with prompt and professional air conditioning repairs services. We can provide service for all major brands of air conditioners, and our air conditioning contractors are experienced with both residential and commercial air conditioning systems.
Keep Your Family Safe Throughout The Summer Months
Especially if there are any young, elderly, or disabled members of your household, consider scheduling same-day services for AC repairs if you are unable to keep your home cool. Many symptoms and medications associated with the elderly and disabled have side-effects that include heat intolerance. If your air conditioning system is malfunctioning during the hottest parts of the year, it can turn your home into an unsafe environment.
Our AC service professionals are ready and available to provide you with quality air conditioning repairs whenever you need them. Schedule same-day or emergency repairs, and we'll be on the job as soon as possible to help you keep your home cool and safe throughout the year.
Our Air Conditioning Repair Services
Air Conditioning Repairs
Central Air Conditioning Repairs
Repairing Air Conditioners
Air Conditioning Units
Heating and Air Conditioning
Ductless Split Air Conditioners
Air Conditioning Contractors
Air Conditioner Repairs
AC Repairs
AC Maintenance
Air Conditioners
Air Conditioning
If you need a professional for air conditioning repairs, please call our Greenwood air conditioning company at 864-229-7117 or complete our online request form.